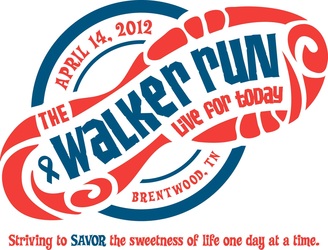 Are you ready, ready, ready – ready to run?
Or walk, as the case may be?
Oooooh, we are getting so excited abround here. Mr. Weatherman is predicting a beautiful day, of course! And so many of you have told me you are going to be there. I am getting all jumpy and fidgety just thinking about it!
I need to make sure you are aware of a few important points:
Early T-shirt pick-up is Friday night at A-Game Sports Complex, from 6:30-8:00 pm. If it is at all possible, you are strongly encouraged to pick up your shirts early. Click here for directions.
The race will now start and finish on the Brentwood High School track. The entire run will not be on the track, just the start and finish. Parking areas are still the same: you may park at Brentwood High School or Middle School or at Granny White Park. The track will be accessible from any of those areas. Don't worry – everything will be clearly marked.
Plan to get there early! Parking may be limited due to some other events going on in Brentwood that morning. Also, those who want to make sure they see the big presentation before the race (you know, where I get to stand up in front of everyone and be thoroughly embarrassed) need to make sure you are there and checked in no later than 7:15 am. Registration starts at 6:30.
Lord willing, Saturday will be a great time of SAVORING! Let's rejoice in a beautiful spring day, the health and freedom we have to enjoy it, and let's savor some precious friendships! I hear there are a few surprises this year that weren't there last year too!
Hopefully, if you have any other questions about the run, this website will answer them.
Walker Run 2012 – Here we come!
I love comments! Click here to leave yours.